MEET OUR GRADUATE STUDENTS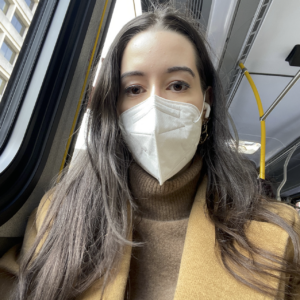 Cristina Reguera Gomez Cristina Reguera Gomez was born in Barcelona, Spain. She studied a BA in English Studies at the University of Salamanca, where she also worked as English instructor. As a third-year student, she got the opportunity to study at University College London with an Erasmus scholarship. During that year abroad, she taught Spanish at a local secondary school and participated in a summer volunteer program for teaching English in China. After completing her studies, she took a gap year for teaching Spanish communication courses and organizing Hispanic cultural activities at Grinnell College, in Iowa. During her Fulbright grant, she is studying a MA in Intercultural Communication and PBC in TESOL at the University of Maryland, Baltimore County. She completed a few fieldwork studies about the linguistic attitudes and relation between language and identity among bilingual speakers in the United States, and has also been presenting the aforementioned research results in conferences in the United States, Spain and the United Kingdom. With regards to her work experience, she works as a Spanish instructor at her university and as a senator for the Graduate Student Association. Last summer she was a Research Assistant at the Phonetics, Acquisition & Multilingualism Lab at Boston University.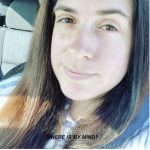 Maria Lee. My name is Maria Lee and I am a senior in the Applied Linguistics program here at UMBC, where I was part of the 2018-2019 MLLI Honors Cohort. My undergraduate thesis was entitled "Twitch Talk: Constructing Gender and Navigating Power in the Video Game Rust", and it analyzed the discourse patterns of three female streamers as they played the game with a male partner, and how each player's construction of her gender varied in relation to the social power she held within the dyad. In 2019 I was also the recipient of the MLLI department's May Roswell Award for Excellence in Writing. My interest in language, linguistics, and intercultural communication comes from my cultural background – as a monolingual Greek-American, I became intimately aware from a young age just how intertwined language and culture are. I have formally studied French, Greek, Russian, Italian, and American Sign Language. My research interests concern language and those on the cultural "periphery" – specifically minority language groups and their undervalued varieties. I'm also interested in the construction of gender through language, and the societal repercussions language has on every aspect of our lives.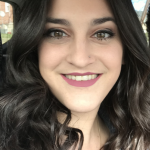 Alyssa Schick was born and raised in Pittsburgh, Pennsylvania. She developed a passion for the Spanish language when taking it in 8th grade, but her love for Spanish culture stemmed from annual summer vacations to St. Augustine, Florida, where the downtown is filled with cobblestone streets and old Spanish architecture. From 2010-2014 she completed her undergraduate studies at the Pennsylvania State University, where she received a BA in World Language Education with a Spanish option, as well as a BA in Spanish with an Applied Sciences option. During her spring 2013 semester at Penn State, she had the opportunity to study abroad in Alicante, Spain for 5 months. During that time abroad she travelled to Barcelona, Madrid, Granada, London and Dublin. Upon completing her undergraduate studies in 2014, Alyssa took a job teaching high school Spanish with Anne Arundel County Public Schools in Anne Arundel County, Maryland. Alyssa had the opportunity to teach a diverse population, many of whom were native Spanish speakers, some who were newcomers to the United States. In 2017, she transitioned to private education and is currently teaching Spanish at Mount Saint Joseph High School, a boys Catholic college preparatory high school. She finds the challenge of teaching all males interesting, and has goals to bridge the gaps between STEM and foreign language education. In Alyssa's spare time, you will find her cooking new recipes and trying out different foods in Baltimore area, or cuddled in her bed with her animals playing video games. Her favorite time of year is fall, when she and her boyfriend have a fall-long marathon of scary movies and fall-themed drinks and snacks.
Diane Zeenny Ghorayeb was born in Beirut and after the Civil War in Lebanon started in 1975, went on to live for 22 years in Paris, where she became fluent in French and studied English Language and Translation at the Sorbonne. She went back to Lebanon during the flourishing 1990s, and spent a decade there, rediscovering her country and all of its charms. In 2006, she brought all of these varied aspects of her experience with her to the U.S. where she has successfully combined them into a dynamic hybrid identity that some days tastes more of za'atar and hummus, and other days more like apple pie or coq au vin. After working in translation for several years, Diane joined the University of Maryland, Baltimore County (UMBC) in 2016. She serves currently as a full-time Program Management Specialist in the Mechanical Engineering Department. While her day job revolves around biomechanics, thermo-fluids, manufacturing systems etc., her passion is connecting meaningfully with others and mining shared insights gleaned from multiple perspectives and backgrounds. In her spare time, you can find Diane in her kitchen, cooking up a gourmet feast for her friends. Or eagerly trying to convince her family and lifelong friends from Lebanon or France to come visit so they could discover her new life in the US.
Michael Canale: Assistant Director, Student Disability Services, Testing & Accessibility Specialist, Deaf and Hard of Hearing Coordinator, UMBC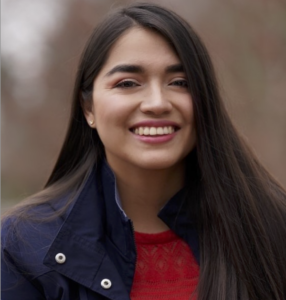 Dayana Katherine Morales Zúñiga is an international graduate student that was bornand raised in Ecuador. She studied Accounting and Auditing along with the English language in college, and after finishing her studies, she started to work in a Rose Exportation corporation, a very important business in Ecuador. Her curiosity in culture grew there because they had many customers from different parts of the world. Later, she also had the opportunity to work for the Ecuadorian government as a project analyst, where they would assign the budget for infrastructure for public schools in Ecuador. After that job, she decided to study a Master's in Business Administration through an accelerated hybrid program out of Spain, all while working in a University in Ecuador in the graduate department. She completed her MBA degree in 2019. When she was studying the MBA, her love for cultures grew even more to the point that she started looking for a program that could help her to develop an intercultural competency/proficiency. Later, she decided to apply and enroll in the Intercultural Communication master's program at UMBC, where she is also a Spanish teaching assistant in the Department of Modern Languages, Linguistics and Intercultural Communication. She moved to the US on the last day of December 2020, during the pandemic. It was difficult for her to adapt to this new country and culture, but it has also been very worth it. After finishing her studies in the INCC program, she wishes to build her career in international business, combining her previous studies/work experience with skills in bridging cultures and groups of different cultural backgrounds and histories because she has seen the challenges that corporations and people face today secondary to these differences.